Digital Art
Portraits, concept art, and illustrations created using Photoshop CS6.
Traditional Art
Portraits, concept art, and illustrations created via traditional methods. Tools of the trade include Faber-Castell, Sakura Micron, and Sharpie pens, Prismacolor pencils, Copic Markers, gel pens, and oil paints.
Cosplay/Accessories
Cosplay/Fursuit parts, hats, stockings, and other sewn/crafted work.
About the artist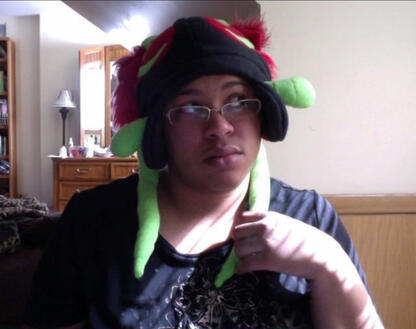 My name is Ashley Bunn, though online, I usually go by Sombra Malamutt. I'm a Chicago based illustrator and crafter with a bachelor's degree in traditional, hand drawn animation from Columbia College.

Generally the subjects of my art are steeped in fandom. The cartoons and movies I grew up with. The ones I picked up along the way and resonated with me well into adulthood and inspired various aspects of my art style, with the majority of my inspiration coming from Disney, particularly The Lion King. Animals are the largest subject of my art, but shows/series like Miraculous Ladybug, Danny Phantom, Pokemon, and Detective Conan also turn up.

Outside of art, I am a level 40 Team Mystic Trainer in Pokemon Go and an avid shiny hunter working on bringing that interest over to Pokemon Let's Go (Eevee).